Cameras are an excellent way to take your security to the next level, and as you're thinking through your options, here's one key fact to keep in mind: If your video surveillance installation isn't done right, it doesn't matter how much money you spend on anything else.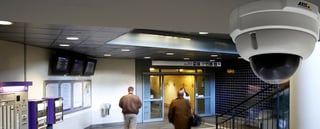 As tempting as it may be to save on labor costs, in order to make the most out of the investment you're making in your safety and security, you need to get help with video camera installation from a professional.
Take our word on this one.
To give you a sense for why calling in a professional is so important, here are the five biggest mistakes in video surveillance installation.
Poor Positioning of Cameras
You and your facilities and security staff may think you understand the layout of your property better than anyone – and you probably do – but that doesn't mean you know how to properly cover it with cameras.
Camera placement needs to take into account the size of the area being covered, possible obstructions and lighting. Outdoor installations will also need to contend with weather conditions and considerations like condensation. A professional installer will understand best how to secure the coverage you need.
Having the Wrong Tools for the Job
Imagine getting ready for your video surveillance installation and realizing that there's no way the hardware you're holding in one hand will support the sophisticated security camera you're holding in the other.
Video surveillance installation professionals have a range of pro-quality tools at the ready for the range of jobs and conditions they face every day. You don't want the wrong setup to make your security camera less secure.
Planning for Today But Not for Tomorrow
As you're thinking through your video surveillance solution and installation, remember that you need a system that's flexible and scalable enough to meet your needs not just now but into the future as well.
Choose a system that can grow and evolve over time without requiring an equipment overhaul or extensive replacements.
Not Properly Training Staff
Say you have – wisely – trusted a professional for your video surveillance installation. That's the first step. The next one is to make sure all of the impacted staff are trained in how to use your new system, not just once but on an ongoing basis.
New staff should be trained, and existing staff should get refreshers, even if you think their interaction with the system will be minimal. You don't want user error taking away from the power of your surveillance system purchase.
Limiting Access to Security Data
Once the cameras are up and the system is running, you're going to have a wealth of data at your disposal about patterns, red flags and opportunities to make changes. It would be a mistake to keep all of that data in one department.
Think broadly about who could make use of the data and insights from your video surveillance system. Security is understandably your primary concern, but others can benefit from having a broad view of what's going on at your campus or property to make decisions about things like staffing, training and policy.
To get a free estimate on the best video surveillance solution for your company or agency, click here.