Chicago Communications was proud to be a partner on a recent high school DAS project that's improving two-way radio and cell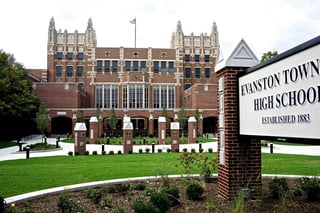 communications for staff, students and public safety officials.
Evanston Township High School, located about 14 miles north of Chicago, is a large, well known and unique school with an equally unique set of communications challenges.
Let's take a look at some of the obstacles presented by this high school DAS project and how the team overcame them.
Project Partners
Partners on the project designed and installed the high school DAS, or distributed antenna system, at no cost to the school, and they'll cover maintenance for the first five years.
In addition to Chicomm, the partners were: Cobham Wireless Radvisory 5G, RFS, Galtronics, Graybar, and Fullerton Engineering. AT&T gave testing and engineering time.
By the Numbers
With a whopping 1.3 million square feet of space over 62 acres, Evanston Township High School (ETHS) is the largest high school under one roof in the country.
Founded in 1893, it has nearly 3,400 students and close to 900 teachers and staff. The school is served by the Evanston Police Department.
Challenges and Solutions
Project partners overcame challenges related to the school's size, age and sprawl, as well as the fact that classes were in session at the time, according to Dennis Ondriska, Chicomm DAS engineer on the project.
Challenge: The historic building had no pathways for cable.
Solution: We had to create new pathways for the cable where there weren't any cable trays or we used installation hardware to put in the cable.
Challenge: Concrete walls that are 1-2 feet thick.
Solution: For the wall thickness, we either had to bypass or drill through the walls to run additional cable. We also increased the number of antennas to augment the coverage.
Challenge: Large, sprawling campus.
Solution: We added more antennas. DAS antennas are not like a radio or car antenna – they are mounted in or on the ceiling. Some look like a metal plate with an antenna and others look like a smoke detector.
Challenge: School was in session.
Solution: We worked after hours and weekends to avoid disrupting students.
Better Coverage, Safer Students and Staff
The new system has improved two-way radio and cell connectivity for ETHS security officers and staff as well as first responders, increasing everyone's safety. We're glad to have been part of such a rewarding project.
To meet your needs for in-building connectivity, contact Chicago Communications.