It's common sense but worth saying: Your two way radio fleet will last longer and perform better if you take good care of it. Routine maintenance is the best way to prevent performance problems, and when it comes to a communications device as mission critical as your radio, reliability is key.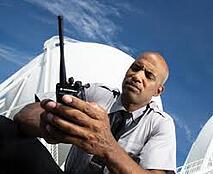 Given how durable and ruggedized radios are, it can be easy to forget that they need some TLC in both their daily handling and at set maintenance intervals.
With that in mind, here are some maintenance tips to help you get more from your two way radios.
Keep it Clean
Before you go reaching for the tub of soapy water, hold it: keeping your radio clean is actually pretty simple if you have the right tools.
What you'll need:
A microfiber or lint-free cloth
A small amount of water, if necessary
A little bit of elbow grease
A pencil eraser to clean the contacts where accessories connect
What you won't need:
Alcohol
Cleaning solutions
Use the Right Antenna
If your team or department has a jumble of old and new radios, antennas and accessories, it's possible that somewhere along the way mismatches of antennas and radios have happened.
Every time you grab a radio from a charger or storage, check that it's got the right antenna. Not sure? The antenna itself will have one of two connectors: pin or flat. Look at the connector base on the radio to see if they're the same. You'll also want to match up the frequency bands, either "UHF" or "VHF."
Be Good to Your Batteries
The first step for treating your batteries right is to make sure you're using the correct kind for your device. You should check that battery and radio types match both regularly and as part of troubleshooting problems. Swapping out batteries can solve a range of issues.
It's also a good idea to keep track of a battery's age and life expectancy. Depending on use and other factors, a two way radio battery can last between 18 and 24 months.
On Motorola radios, you can find the date of manufacture on the back of the battery next to the bar code. The first number is the year it was made, and the second number is the week of the year. For instance, 12 24 means the radio was made in the 24th week of 2012. It also means it's older than 24 months and should be pre-emptively replaced.
Create a Cozy Storage Environment
When they're not in use, two way radios should be stored in a cool and dry place, out of the sun and away from harsh conditions. They shouldn't be stored anywhere where they might get wet, and if they're going to be stored for an extended period of time, the batteries should be removed first.
Train Everyone Who Uses Radios...Then Train Them Again
As we've said before, the biggest two way radio problem isn't with the devices themselves, it's with users who aren't properly trained. Radio misuse can derail even the best maintenance program. Everyone who has contact with radios – even infrequently – should be trained. And receive periodic refresher training.
To learn more about creating and maintaining a successful two-way radios system, contact Chicago Communications to set up a free consultation.