If you're looking to woo more guests to your property – and who isn't? – a new survey suggests that stepping up your hotel wireless should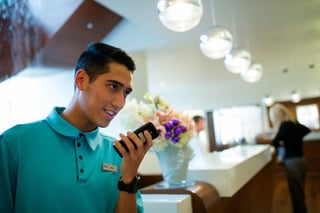 be a candidate for the top of your to-do list: The Red Roof Inn survey says free and fast hotel wireless is more important to travelers than parking, complimentary breakfast or even location.

The survey of 800 economy and mid-tier travelers nationwide was conducted in late May 2016 by Research+Data Insights and commissioned by economy lodging leader Red Roof Inn. Respondents ranked free WiFi a close second only to cost as their top consideration when booking a hotel stay.
Free and Fast Hotel Wireless Means Better Business
In other survey findings:
96 percent of respondents said they expect hotel WiFi to be free.
80 percent said they had a more favorable opinion of a hotel that offered free WiFi at guaranteed speeds.
One-third said they'd avoid booking at a hotel that didn't offer free WiFi.
And they ranked the most common hotel wireless issues as:

slow connection in rooms (69 percent);
poor connection in common areas (41 percent);
upgrade fees for faster WiFi (32 percent); and
inability to stream or game (27 percent).
Millennial travelers are driving many of the hotel wireless trends, and according to the survey, they are two times more likely than other age groups to use hotel WiFi to stream video or music and play online games.
In response to the survey, Red Roof Inn says it's launching a Verified WiFi initiative to upgrade the chain's wireless systems.
"We have listened to our guests and have responded to their immediate needs when choosing where to stay," says Red Roof President Andrew Alexander. "Whether it's a business traveler who needs WiFi to stay connected on the road or a millennial who wants to stream music or play video games, high speed WiFi is integral to today's traveler no matter who they are."
Hotel Wireless Expectations Grow
Hotel wireless is getting a boost across the industry as today's connected travelers increasingly expect the same speeds and capabilities on the road that they take for granted at home and work.
And stepping up hotel wireless isn't just about connectivity speed – travelers also want to use their smartphones and mobile devices to maximize convenience and, in some cases, minimize the necessity for human contact. Some of the major hotel changes have piloted programs that allow guests to choose their rooms, check in and unlock their room doors without ever stopping at the front desk.
Hospitality chains are also offering guests more virtual connections during their stays through TV- or text-enabled room service and the ability to receive restaurant or entertainment recommendations from staff via text. Connected guests at some properties can also remotely close out their stay with mobile checkout.
It's also important to keep in mind that ensuring that your property is offering reliable wireless connections is just one component of a robust wireless communications strategy, which also includes ensuring staff have the right tools – such as radios – to instantly communicate.
To meet your needs for wifi solutions in the hospitality industry, contact Chicago Communications today!