The U.S. Department of Homeland Security's School Security Checklist includes guidance on everything from controlling access to campus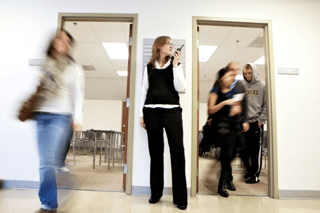 buildings to how to develop a sound communication system.
One key communications tool addresses many of the department's communication system requirements for school safety: two-way radios.
In the context of the checklist's recommendations, let's take a look at how two-way radios strengthen school security.
School Security Checklist
The K-12 School Security Checklist was issued by the DHS Office of Infrastructure Protection in 2013 as a guide and framework for administrators and security officers.
The list has five items under the Communication System section, and calls for things such as "two-way communication between faculty, staff, administrators, and security personnel," and "regular communication with local law enforcement and emergency responders."
'Two-Way Communication'
Two-way radios are, by definition, "two-way communication." Radios allow school personnel to communicate quickly and efficiently across departments and campuses either individually or in groups.
And thanks to mobile radios and accessories, the devices can be used for both campus communication and school bus safety.
Looping in Law Enforcement
For situations on campus that require law enforcement and/or first responder involvement, the SchoolSAFE Communications solution bridges the radio systems of schools and public safety.
Web-enabled SchoolSAFE allows school personnel to immediately reach responders without having to rely on landlines or cell phones, meaning those closest to an incident can provide real-time information to those arriving on the scene.
Motorola has partnered with SchoolSAFE and estimates that more than 230 installations have been completed nationwide.
Don't Forget Training
Several other sections of the school security checklist emphasize the importance of training, and that goes for communications as well.
As important as two-way radios are in strengthening safety in schools, they must be used correctly to do their jobs. School staff, particularly those who don't use radios regularly, should be periodically trained on their proper use so they're ready to communicate quickly when seconds matter.
To get a free estimate on the best communications solution for your school or school district, contact Chicago Communications.