When Fremont School District 79 (SD 79) wanted to improve school safety at its three Chicagoland campuses, administrators were focused on communications, both among staff and with public safety agencies, and we knew two-way radios were the answer.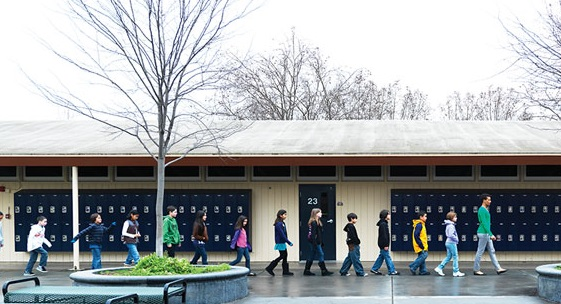 We're proud that we were able to provide a solution that blended Motorola two-way radios and a Teldio application to make the district's 2,200 students safer.
Fremont SD 79 covers 36 square miles in the northwestern Chicago suburb of Mundelein in a part of Lake County that's semi-rural. Forest preserve and rolling hills make it pretty isolated, and cell coverage can be spotty.
Cell Phones Weren't Making the Grade
When the district came to us, they were using cell phones to keep in touch, and several things weren't going well.
"Our cell signal was weak," says Mike Tanner, the district's director of business services. "It didn't reach into the lower levels of our schools where we really needed it, such as the cafeteria, storage and mechanical rooms. Our cell coverage was not only unreliable, but Nextel stopped supporting the push-to-talk network, which eliminated the redundancy we wanted to have in a communication system."
From a school safety standpoint, staff couldn't reliably reach each other or public safety agencies. Even when they did make contact, the communication was public, not private, and confined to one-on-one conversations.
Staff Swap Out Cell Phones for Motorola Two-Way Radios
Tanner is a military veteran who's familiar with using two-way radios. He understands why radios are better equipped than cell phones for what the district needs.
"We recognized the need for a reliable, always available communication system," he says. "Particularly after the Sandy Hook Elementary School shooting, we were looking for a more robust security solution for our schools, and that was two-way radio."
The first step was to transition staff from cell phones to lightweight MOTOTRBO SL 7550 portable radios.
The 40 SL 7550 radios were provided to front line administrators, the business office, the transportation director, custodians, technology staff, playground aides and PE instructors who often teach students off campus.
"The SL 7550 radios are lightweight, unobtrusive and easily worn with an outfit," Tanner says. "We intentionally selected these devices to fit the people using them. Our personnel are much more likely to carry the radios, and they are really embracing them."
Teldio App Ensures Immediate Contact with 9-1-1 Dispatchers
In addition to the two-way radios, we recommended that the district use an advanced telephone interconnect app from Teldio, a certified Motorola applications developer.
The app is designed to allow radio users to receive and make phone calls directly on their MOTOTRBO digital radios, including to 9-1-1.
"This capability is important for all our personnel, but particularly for those who are outside monitoring playgrounds and sports activities and don't have access to a landline in the building in an emergency," Tanner says.
Radios Deliver Benefits
The savvy switch to two-way radios has transformed school safety at the district's campuses and given staff more peace of mind. They can connect at the push of a button, hold group conversations and count on the radios' reliability.
"Our people are very confident having MOTOTRBO radios," Tanner says.
To get a free estimate on the best communications solution for your school or school district, contact Chicago Communications.