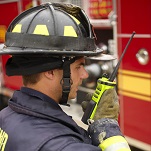 Comprehensive firefighter training should cover all elements of the fireground, and that includes communications equipment. Today's radios and accessories are more intuitive than ever, but that doesn't mean first responders don't need upfront and continuous training to ensure that they're ready when it matters most.
In a "Fire Engineering" Training Minutes video on radios, fire service veteran Nicolas Martin says it best: "Communications are essential on any fireground, and radios are an essential part of communication."
Firefighter training on communications equipment doesn't have to be arduous, and a good mix of best practices – and practice – will make it easier than you think. Providing some basic information about how radios work and dispelling misconceptions can guide training and make it easier to implement.
Here are some firefighter training tips to keep in mind: