Today's law enforcement agencies are consistently faced with adopting new technologies in order to better serve and protect their communities. This past decade has produced such constant innovation and advancements in technology that most police agencies no longer struggle to adopt or adapt, but rather their biggest challenge is finding the right combination of technologies to incorporate into their department.
Most recently, on-the-body-cameras, or, bodycams, have joined the growing list of technologies for police agencies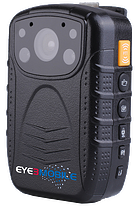 to consider. While other technologies typically aim to advance or improve the law enforcement's job, such as automated license plate readers, GPS applications, or even the use of social media as an investigative tool, police body cameras offer a whole new set of benefits and use-cases.
These benefits include:
Documenting evidence
Officer accountibility
Officer training
Strengthening department transparency to the public
Preventing and resolving public complaints
Capturing events from the police officer's point of view
Given the recent events involving police and citizens, the public demand for bodycam solutions is growing. And, since police agencies are searching for a high-quality solution to meet that demand, Eye3WitnessView bodycams are becoming increasing popular.
The Eye3WitnessView BodyCam is a high-powered body camera that can record up to 1080P in digital video. The camera can be worn on either the shoulder loop or the shirt pocket, whichever is more comfortable for the officer, and records audio and video with the option of GPS location. The BodyCam is powered by a long-lasting lithium ion battery.
For those agencies currently exploring bodycam options, we have put together a list of some of the core features of the Eye3WitnessView Bodycam below.
High Video Resolution
This camera has the ability to record video at the up to 1920x1080P, all through a 140-degree wide angle lens.
High Video Framerate
The Eye3 can record video at both 30 and 60 frames per second (FPS).
Nighttime Operation
Has ability for infrared and visible LED illumination, as well as a laser sight for nighttime patrol.
Recording Options
Able to record video, audio, and capture high-resolution still photos.
Storage Capacity Options
The camera can store up to 64GB of content and data.
Video Metadata
The Eye3WitnessView includes a time and date stamp on each captured video/image, as well as the option for GPS coordinates of where that content was recorded.
OS Compatibility
The camera is compatible with nearly ever operating system a law enforcement agency may have, including Windows XP, Vista, 7, 8, and Apple's Mac OS.
Choosing a new technology like a bodycam is only the first step. Partnering with a trusted solutions provider to help implement the technology is key. Contact us today to learn more about the Eye3WitnessView BodyCam and other solutions for your agency.