Firefighter equipment, particularly communications equipment, has countless jobs to do when it comes to protecting firefighters from hazards and keeping them safe, so nothing in the design can be left to chance. Their equipment needs to meet their unique needs for durability and enhance their ability to carry out their lifesaving duties.
In general, getting the right public safety equipment is a matter of priority, whether it's radios for the field or consoles for dispatch. With that in mind, the unique needs of firefighters led Motorola Solutions to work with the firefighting community on the APX 8000XE Series of two-way radios and accessories.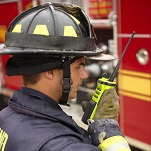 "We felt, let's invest, let's really figure out what it is that firefighters need," says Scott Richards of Industrial Design and Human Factors for Motorola Solutions.
In a launch video for the APX 8000XE radio and XE500 Remote Speaker Microphone, Richards says it was important to understand exactly what firefighters face.
"What kind of environment are they in? What kind of challenges do they encounter? And let's go and design a purpose-built series of devices and solutions."
The APX 8000XE radio and the XE500 Remote Speaker Microphone have unique features tailored for the fireground, so let's take a closer look at some of them.
Adaptive Audio
The APX 8000XE radios have several built-in capabilities to ensure users can always hear and be heard. The "adaptive audio engine" capabilities include:
Dual-sided operation: Users can speak into either side of the radio at any time;
Noise suppression: Background noise is canceled out as users move through different environments; and
Windporting: A third microphone can be engaged to cancel out wind noise.
Dynamic Design & Durability
In addition to crystal clear audio that stands up to the toughest challenges, the radios also had to have firefighter-specific aspects to their physical design. Those physical attributes include:
Submersibility: The radios can withstand submersion in two meters of water for four hours.
T-shape: The radios are easier to grip even when users' hands are wet or slippery;
Flexible antenna: The antenna bends in all directions; and
Voice confirmation: Users get audio confirmation of things like zone and channel selections, as well as the use of various features.
XE500 Remote Speaker Microphone
The RSM built to be paired with the APX 8000XE radios have similar durability and usage standards, including the adaptive audio features.
They also come with exaggerated knobs and controls that can be accessed and operated even when the user is wearing bulky gloves.
Of course, getting the right radios and accessories is just the first step in properly equipping firefighters, and the second is adequate training. Training on communications equipment is essential, and much easier than many people believe.
In the launch video for the APX 8000XE radios, John Fahy, chief of the Elgin Fire Department, applauded Motorola for working so closely with firefighter to get the radios right.
"They don't build a radio and then say, 'how does this work?'," Fahy says. "They say, 'how do you work & let's build a radio for that."