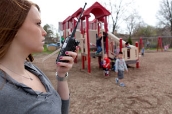 Technology in education is constantly evolving in exciting ways, from apps that aid in learning to communications equipment that enhances school safety. We know that administrators are always looking for economical ways to use technology to address their challenges, so we'd like to share this case study from one Illinois district that made the smart switch to radios.
By transitioning staff and administrators from cell phones to MOTOTRBO two-way radios, Fremont School District 79 (SD 79) not only improved communications, they transformed their school safety.
Here, we'll take a look at some of the specific advantages that radios have over cell phones for Fremont SD 79 and districts like it.