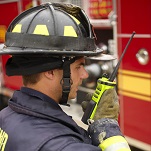 Firefighter equipment, particularly communications equipment, has countless jobs to do when it comes to protecting firefighters from hazards and keeping them safe, so nothing in the design can be left to chance. Their equipment needs to meet their unique needs for durability and enhance their ability to carry out their lifesaving duties.
In general, getting the right public safety equipment is a matter of priority, whether it's radios for the field or consoles for dispatch. With that in mind, the unique needs of firefighters led Motorola Solutions to work with the firefighting community on the APX 8000XE Series of two-way radios and accessories.
"We felt, let's invest, let's really figure out what it is that firefighters need," says Scott Richards of Industrial Design and Human Factors for Motorola Solutions.
In a launch video for the APX 8000XE radio and XE500 Remote Speaker Microphone, Richards says it was important to understand exactly what firefighters face.
"What kind of environment are they in? What kind of challenges do they encounter? And let's go and design a purpose-built series of devices and solutions."
The APX 8000XE radio and the XE500 Remote Speaker Microphone have unique features tailored for the fireground, so let's take a closer look at some of them.