So much of what is written these days about FirstNet has to do with the delays that have dogged the initiative since the very beginning and continue five years later. With all of the controversy, it's easy to lose sight of why FirstNet was created in the first place and what it means for first responders.
Given the latest delays and the possibility for future uncertainty, it's helpful to take a virtual step back to understand exactly what's at stake for the country's public safety communications.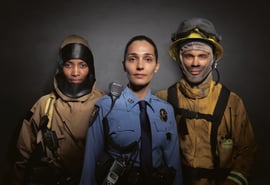 The First Days of FirstNet
Congress created the First Responder Network Authority, or FirstNet, in February 2012 "to establish a nationwide broadband network for public safety." Creation of the network was the final recommendation of the 9/11 Commission to connect police officers, firefighters and EMS providers and ensure as close to universal interoperability as possible.
The authority is led by a 15-member board with representatives from government, public safety and the wireless industry.
Interoperability at Last
FirstNet will create a single, nationwide, interoperable LTE network that's dedicated solely to public safety communications. Rural and underserved communities will get solutions that work for them, no matter how remote.
And first responders will be able to seamlessly connect in a way that's impossible today given the disparate radio networks that agencies rely upon.
Sadly, as more time goes on, the list continues to grow of large-scale emergencies in which lives are lost and opportunities tragically missed because the responding agencies couldn't talk to each other.
Data Driven
The new network will provide mission-critical high-speed data services and give first responders the ability to receive and transmit photos, video, texts and location information in real time. Consumers have taken this technology for granted for years, of course, and while it's a convenience for them, it will be life-saving for public safety agencies.
Proponents of FirstNet paint a picture of a future in which firefighters and police racing to a scene can be sent blueprints of the building they're heading to, background information on the suspect they're pursuing or detailed descriptions of the chemicals they may encounter on-site.
Prioritizing Public Safety
Once the new network is implemented, first responders' communications will be given priority during emergencies. Public safety agencies will be given pre-emption authority to ensure their ability to keep in touch is never compromised by consumer traffic.
Public Safety-Grade Durability
FirstNet will provide a reinforced public safety network that's built to withstand a range of natural and man-made disasters. For weather-related emergencies, plans call for network hardening that's specific to the vulnerabilities of each region of the country: earthquakes in the west, hurricanes or super storms in the east, tornadoes in the Midwest.
Infrastructure improvements include strengthening cell tower sites, as well as providing back-up equipment and services.
Cyber security controls are also being developed to protect against threats that are impossible to see and more difficult to combat. Firewalls will enforce strict security policies that are being established with the Department of Homeland Security and Department of Defense.
To get a free estimate on the best public safety communications solution for your department or agency, click here.