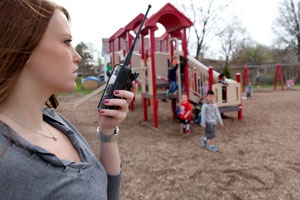 In a survey conducted by Motorola, 99 percent of administrators, maintenance staff, teachers, transportation directors, and other school staff said their top priority was keeping students safe and secure.
But when those same school personnel consider how to keep in contact during emergencies, many automatically reach for their cell phones without considering that the real top communication tool for school safety is two-way radios.
Let's take a look at some of the main reasons that when it comes to safety in schools, more districts are deciding that two way radios are a better choice than cell phones.
Instant One-to-Many Communications
Imagine this scenario: A lone school hall monitor witnesses a fight brewing between students and decides to call for help. If they're using a cell phone, they'll need to locate their device, scroll through their contacts, find the right number and hope that the appropriate person picks up quickly. Meanwhile, as precious seconds tick by, the conflict has escalated to the point of danger.
Now, imagine the same hall monitor was equipped with a two-way radio. Once they saw the incident starting, they could utilize the Push to Talk (PTT) feature to instantly alert not one person, but everyone on that channel about what was happening. The monitor could not only call for help, they could secure the location for students in much less time than it would have taken using a cell phone.
Radios Can be Used While Driving
Two-way radios are an invaluable tool for transportation staff concerned about school bus safety. For those responsible for transporting students to and from locations, it is against U.S Department of Transportation (DOT) regulations to use a cell phone while in motion.
Yet 21 percent of bus drivers surveyed use cell phones, and 8 percent use a combination of cell phones and two-way radios. Two-way radios, unlike cell phones, have been approved by the DOT.
Greater Reception and Reliability
Another concern for the use of cell phones both on and off the school premises is the chance of dead zones, lack of service, dropped calls and more. And during large-scale emergencies, cell phone service can become overloaded and unavailable, just when it's most needed.
Two-way radios are engineered for strong reception and have a stronger track record of reliability. Radio traffic can also be prioritized to protect the most vital communications.
Radio applications and features are also available to extend their range to ensure campus communication across larger distances.
Longer Battery Life
Cell phones are wireless devices, but brief battery life that makes frequent charging necessary can make it feel as if users are tethered to their chargers.
Two-way radios have an exponentially longer battery life than cell phones. In the aforementioned study, 74 percent of respondents regarded "using a communication device that is reliable and has long battery life" as their most important concern, making it the second highest priority.
Lower Long-Run Cost
With all of these school security benefits of using two-way radios rather than cell phones, how come schools haven't implemented the system? Budget cuts.
In the Motorola survey, 66 percent of respondents attributed their lack of a two-way radio system to not having sufficient funds, yet 40 percent say the school districts need an updated communication system to better meet their school's needs – particularly for emergencies.
What school officials don't realize is that after the upfront equipment cost, two-way radios don't carry user fees. After the initial set up, two-way radios do not run on monthly charges or handling fees like cell phone plans or school wifi do.
Purchasing radios from companies such as Chicago Communications also guarantees you quality customer service and maintenance on your radios. In essence, by switching over to two-way radios from cell phones, school districts can save not only time and effort during use, but also money.
To get a free estimate on the best communications solution for your school or school district, contact Chicago Communications.